Machines
Bay of Plenty Tractor
In the Bay of plenty we have replaced our Carraro tractor with Ferrari's latest 95 hp model. The aeration machine has benefited from a major refit.
It is now 200mm lower and a lot more powerful at driving the spears into hard ground. It puts 800kg of force onto each spear and can go down 720 mm.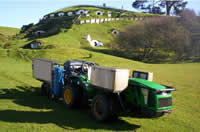 Our first automated machine was not tough enough in the hardest ground. Instead of breaking spears the latest one is simply wearing them out in even the toughest of conditions.
The lower ride height allows us to get in most orchards all year round.
Northland Atom Machine
The Atom based machine is now back home in Whangarei.
Wayne Hana and Jacquie Simpson are taking care of Northland for us.  Jacquie and Wayne run their own organic avocado orchard and have a very good understanding of improving the soil conditions.